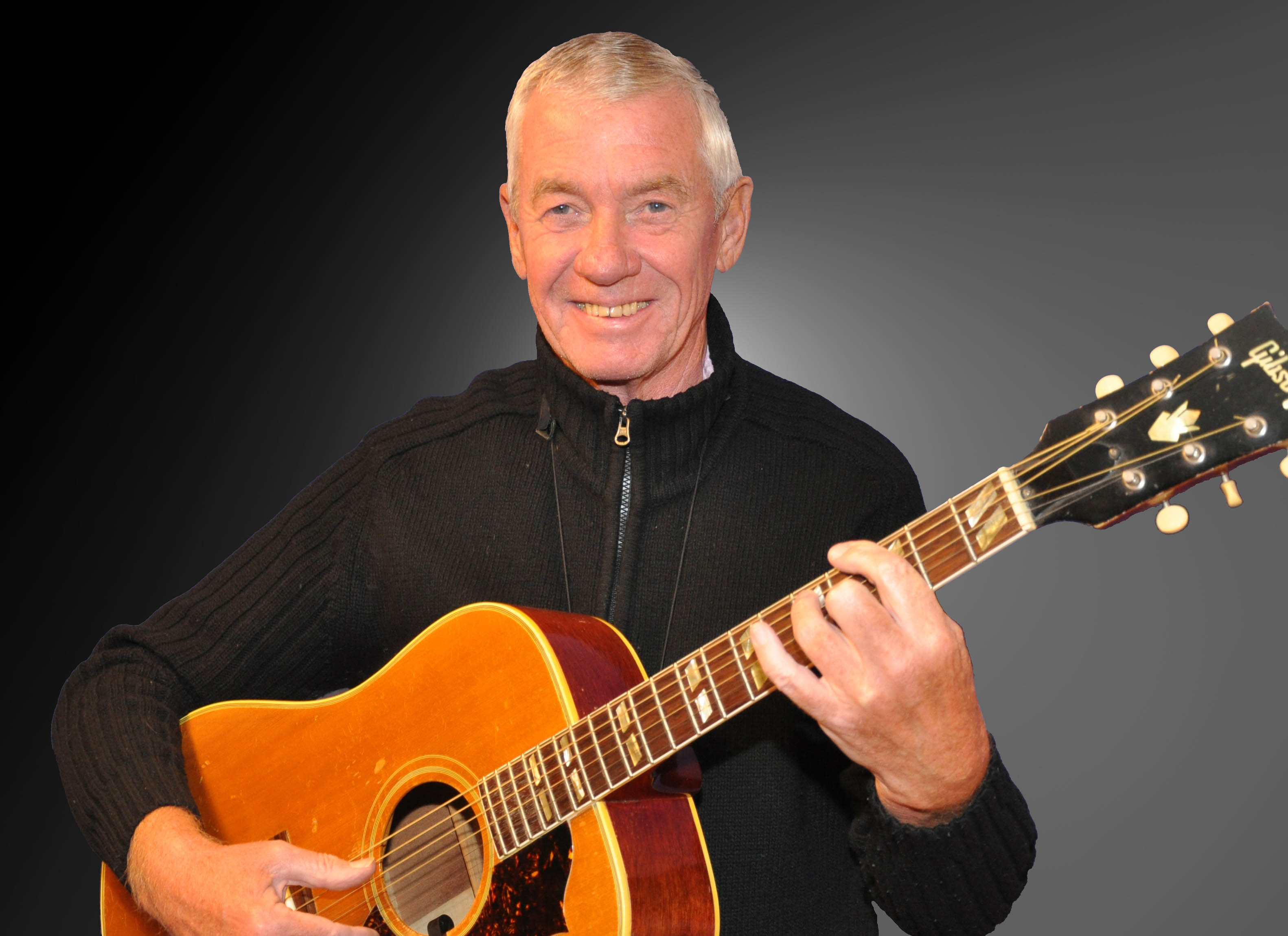 "It is with great sadness that I reported the recent death of my cousin, Peter Douglas, formerly a member of the Leesider folk group. Music had been the major driving force behind Peter ever since I can remember. He featured on the trombone in the St Teresa' church band which appears on this web-site along with his time with the Leesiders.

My earliest recollection of his debut in front of a live audience was in St Edward's school hall. School concerts in those days (1950s) were generally drab affairs with Fred Boraston conducting the choir and Mr Genin the school orchestra while the soloists were largely playing classical piano or violin pieces.

Peter sought to change that and approached Brother Wall, the tall thin ascetic headmaster and enquired if he could play his mouth organ to which, to our amazement, he was given the green light. With some of his class-mates as his backing group, Peter went on stage and gave a rendition of the popular cowboy song, 'Muletrain'. When they finished the boys listening with utter disbelief, erupted in applause and standing up cheering to the rafters.

Peter was a happy go lucky guy, who loved teaching music as much as performing. He moved to Sweden after leaving the Leesiders and is survived by his daughter Mary. His two brothers John and David who both attended St Edwards with us, the former lives in Blundellsands and Dave emigrated to Australia nearly 60 years ago. Peter had been in poor health for some time with cancer but collapsed while taking part in his church choir two months ago. After six weeks in hospital and two weeks in a hospice, he passed away with his daughter ever present at his side. He is deeply missed by his family and all who knew him for his warm and affectionate smile".


Peter Tennyson.
Peter's funeral to take place in Uppsala at 3pm on 26th January 2018. 31 December 2017
Peter Douglas RIP
I have just heard from Peter's cousin that Peter died early this morning.




There is a section on our WEB site to the Leesiders a group Peter and Bob Buckle were part of for about 7 years until Peter moved on to other ventures.


Click below for link. ( much more via our web site under musicians. )
I will post more when details available.

---

---

10 October 2017
Please see attached for details of latest Bach Cantata for November

please note later starting time.



Click above for details.

---
31 August 2017
Please see attached for details of the Bach Cantatas - the 2017-18 programme.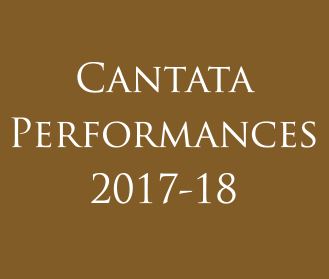 Click above for two pages of details.

---
17 August 2017
Sunday 20th August sees the start of the 40,000 nautical mile Round The World Clipper Race. The Clippers are at present assembled in the Albert Dock Liverpool having arrived on Monday.
This group photo showing some of the racing yacht's for the round world race berthed at Liverpool's Albert dock.
Many thanks to BARFLUER from the North West Airnews site for use of his photo.


---
---
10 August 2017
Please see attached for details of the September Cantata.
The Syllabus of all Cantatas in the forthcoming year 2017-18 will be available shortly.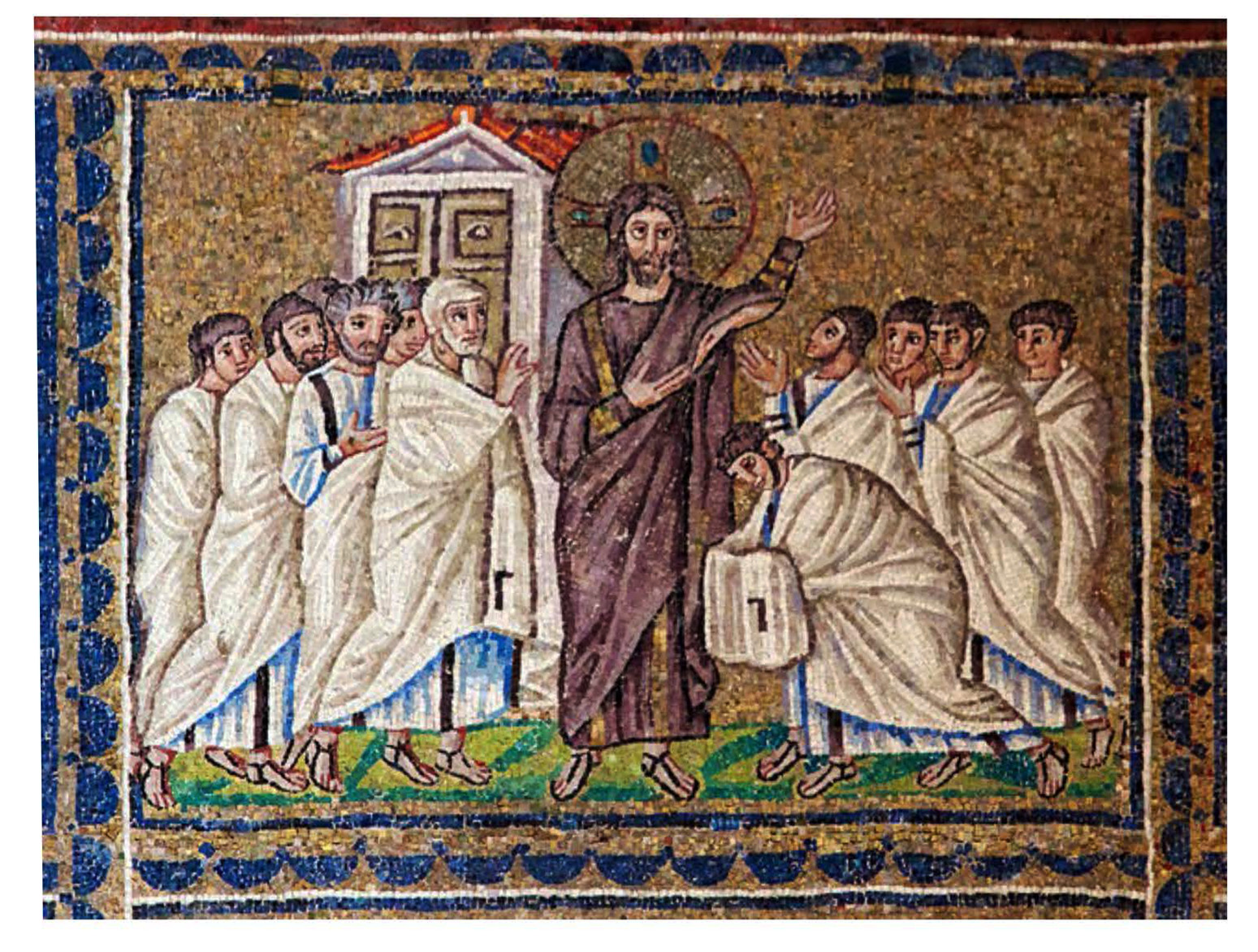 Click picture to enlarge and details.

---
19 July 2017
I have just been passed the sad news that Derick Chamberlain passed away on 1st July but have no further details at this time.
May he Rest in Peace.

---

PURPLE DAY 8 July 2017
This will follow the successful formula of recent year's.
Please Click link below for news of this years Purple Event and Evening Dinner - the Dinner will be followed by a disco - 19:30 to 01:00.
As last year there will be a quiet area away from the disco to be set up after the dinner is served.




Please note bookings are already being taken. 24 May 2017 update
ROONEY DENIS : Obituary

Published in the Liverpool Echo on 22nd May 2017 (Distributed in Liverpool)
This notice has had 55 visitors and has one image ( as at 24th May).
ROONEY DENIS JOSEPH Sadly died at Whiston Hospital surrounded by his loving family.
Devoted husband to Dot, great dad to Catherine, Michelle, Gerard and Paul.
Proud grandad to Adam, Sophie, Alice, Jack and Georgie. Much loved brother, brother in law, father in law and uncle.
Will be greatly missed by everyone who knew him.

Requiem Mass to be held at St. Bartholomew's, Rainhill, L35 6NY on Thursday 25th May at 10am, followed by interment at St. Helens Crematorium (WA10 6DF) at 11.30am.
Family flowers only please. Donations can be made in Den's name to CAFOD.
Contact Gornalls funeral director, West St. Prescot. 20 May 2017
Denis Rooney RIP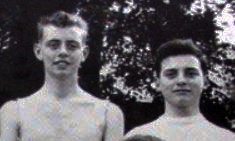 Jim Griffiths next to his friend Denis
in the 1955-56 Crosscountry Team A message from Jim Griffiths
It was with great sadness that I heard of the death of Denis early this week.
He died peacefully at home, after a long illness, in the early hours of Wednesday morning, 17th May 2017, with all his family around him.
Denis was a real gentleman, friend, colleague and fellow parishioner at St. Bartholomew's church, Rainhill, where his funeral service will take place next Thursday, 25th May, 2017 at 10am.

Always interested in sport (cricket and athletics at St. Edwards) he went on to encourage and fully support, on the touch line, his children and grandchildren in their endeavours on the football pitch wherever it might take them. He will be sadly missed by all within the Rainhill parish community and beyond.

God bless you my friend.

Jimmy Griffiths.

---

17 May 2017 --this notice of bringing Cantata season to an end - 25 June 2017, click on painting for details.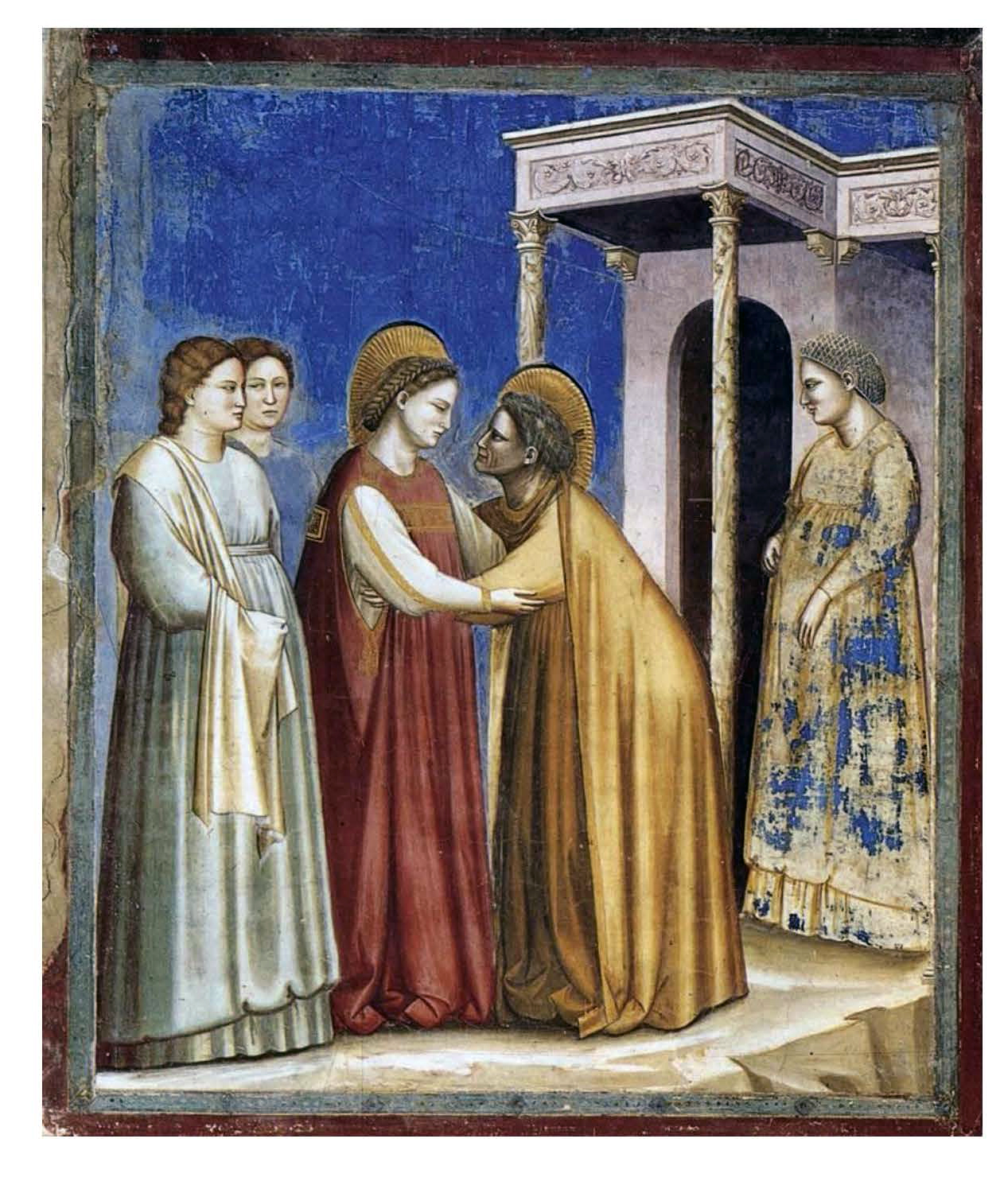 Click picture to enlarge and for details of last Cantata for this season.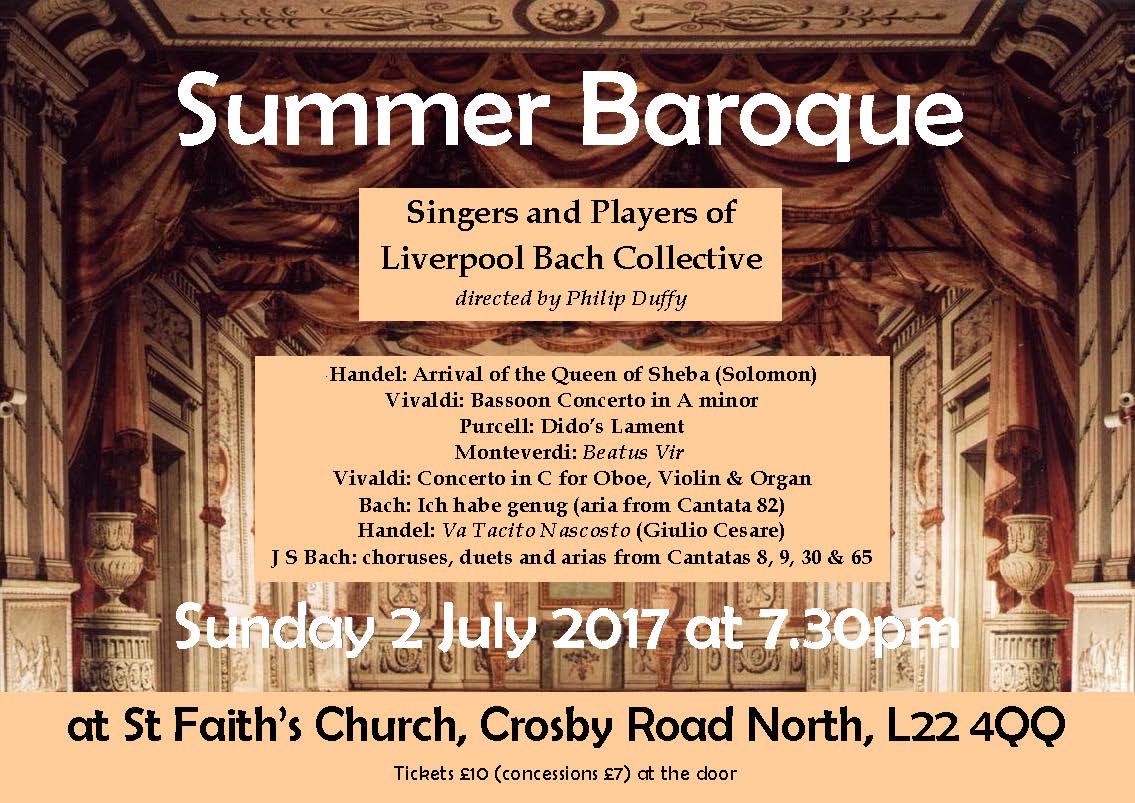 Click picture to enlarge and for details this special event.
A concert - Summer Baroque - on July 2nd
The Collective is saving up to purchase a pair of baroque oboes, and this concert is in aid of the Oboe Fund.
---
5 April 2017 ---- I have had a message from Peter Kilfoyle this evening.


Less than two years ago, twenty Old Edwardians of the 1957 intake met up in Liverpool for a stroll down Memory Lane.
It was so good, we decided to do it again, once more in a hotel in Central Liverpool - a few beers, some nibbles, and lots of tales.
Hopefully, we can contact many more old friends, in the hope that we will get an even better turnout on Saturday, October 7th.
If you wish to come, or just to chat about it, feel free to contact me on my email at - peterkilfoyle@gmail.com


I and Phil Freeman, who have been charged with organising the evening, would be glad to get you along to what promises to be a memorable knees-up.

Peter Kilfoyle
---
---
4 April 2017 -- 14 May 2017 Cantata, click on painting for details.

This event and is the be held in S F X Church Salisbury Street, in Everton.

They will be performing Johann Sebastian Bach: Es ist euch gut, daß ich hingehe - It is for your good that I depart (Cantata 108).

This is another celebrated church whose architect was Joseph John Scoles and was opened in 1848.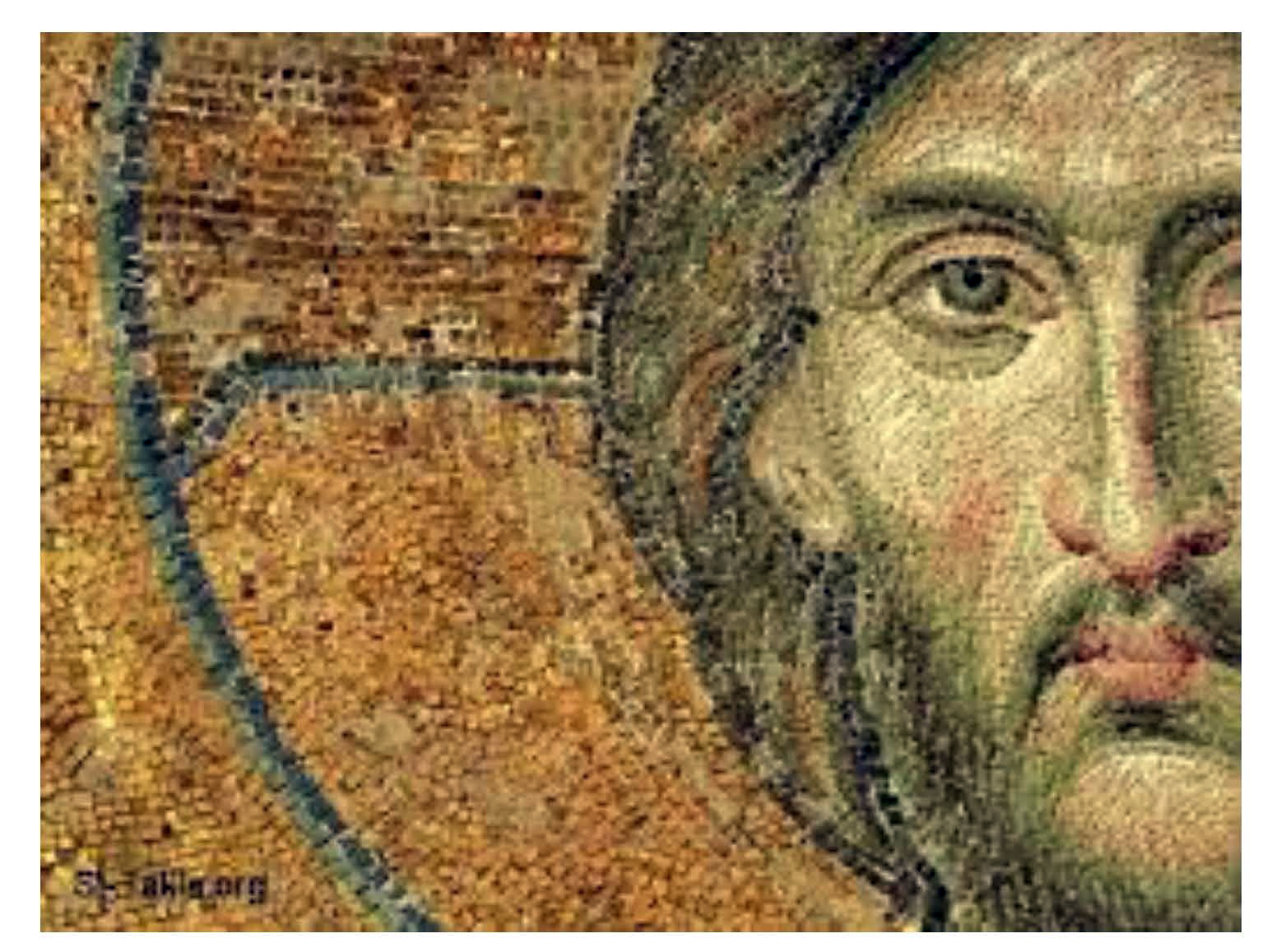 Click picture to enlarge and for details of Cantata.
---
14 February 2017 -- the March 2017 Cantata, click on painting for details.

This is a special event and is held in Saint Vincent de Paul Church St James Street, in its 160th year.

They will be performing Johann Sebastian Bach: Es ist euch gut, daß ich hingehe ---It is for your good that I depart (Cantata 108).

This is yet another celebrated church whose architect was E. W. Pugin and opened in 1857.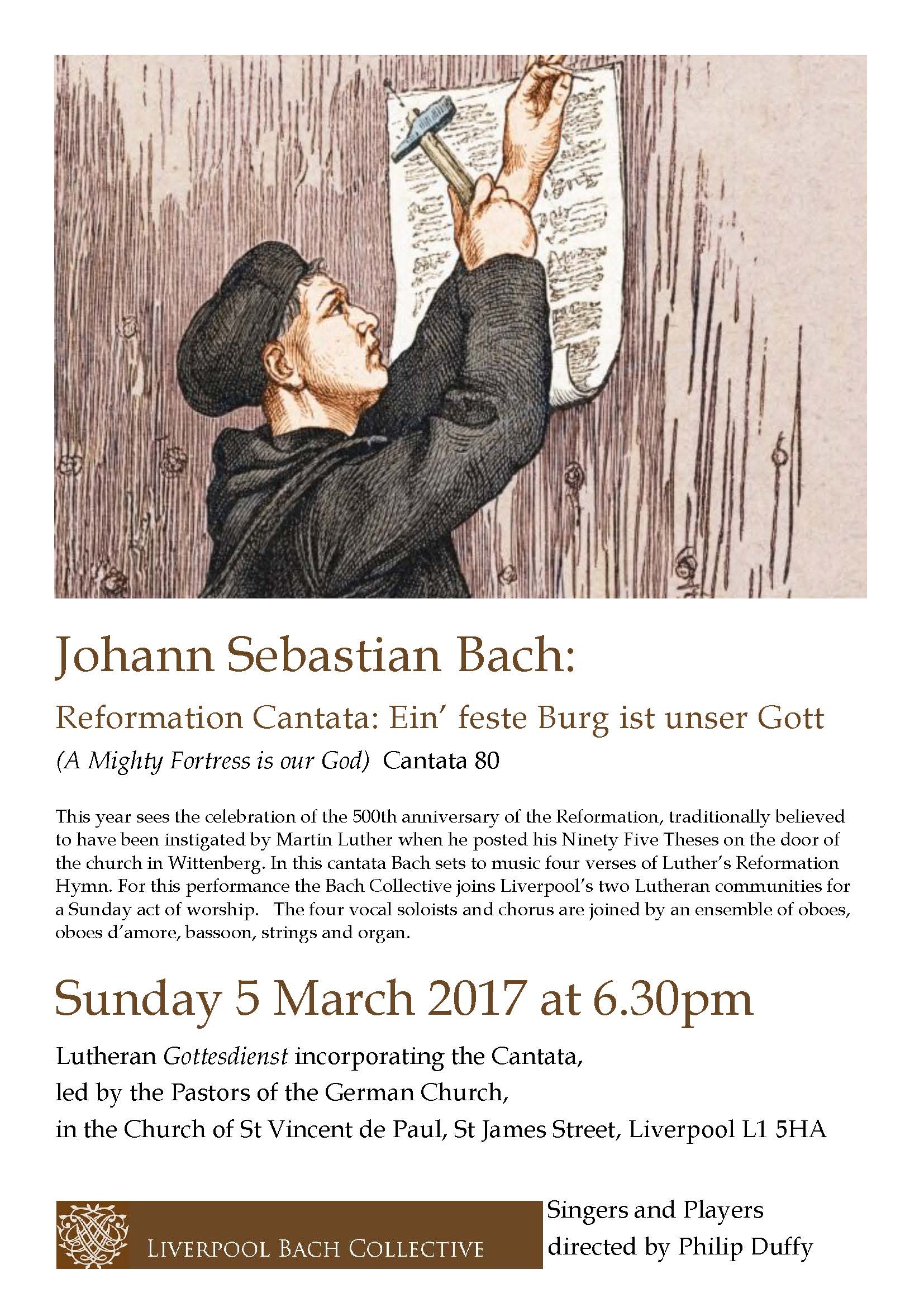 Click picture to enlarge

---
24 January 2017
Geoff Robinson RIP
Many of Geoff Robinson's family, friends with teachers past and present attended a memorial service in the Rosemary Chapel of Springwood Crematorium to celebrate the life of Geoff.
16 January 2017
Geoff Robinson RIP Funeral Arrangements

A message from Mr Robinson's family.
Dear Old Edwardians -
In the early hours of January 5th my father, Geoff Robinson, peacefully passed away, after many years of illness, receiving excellent care both from the home he was in, and from many others - they know who they are.

The funeral will be held in the Rosemary Chapel at Springwood Crematorium, Springwood Avenue, Liverpool L25 7UN on Tuesday 24th January at 2pm. Anyone wishing to pay their respects will be welcome.

Family flowers only. Donations if required to Parkinson's UK, Oxfam or Amnesty International c/o Funeral Director Graham J Clegg 7 Dover Road, Maghull, Liverpool L31 5JB

We honour the dead best by living well. Love and peace to all.

Leon Robinson
Programme Leader
Religious and Philosophical Education
University of Glasgow


---

11 January 2017
Geoff Robinson RIP

I have had a brief message from Emma Quale at St Edward's College.
"We received the sad news that former Head of Maths Geoff Robinson passed away last week.
I am not sure if you have heard this news but I will update you with funeral details when I have them." Geoff passed away on 5th January




There is a tribute on the College news page from Gordon who is a teacher at St Edwards.

Click on links for some photos
---





---

9 January 2017 -- the February 2017 Cantata, click on painting for details.
---
22 December 2016

Chris Gilbert(OE54-61) RIP

Hello Ed. Can you post the sad news on the notice board that my brother Chris Gilbert (OE54-61) passed away peacefully after a short illness on Saturday 17th December.
His funeral will be at Holy Name Oxton Birkenhead 60 Beresford Road CH43 2JD at 9.30am on Wednesday 4th January 2017
and then the Landican Crematorium Arrowe Park.
from Mike Gilbert (OE55-62)




Chris Gilbert in 1960 First Xl Cricket Team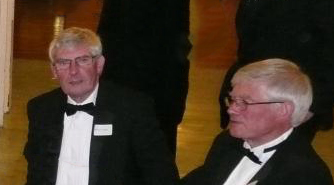 and at 2010 Dinner Chris with his brother Mike on left of photo.
---
6 December 2016 -- the January 2017 Cantata.
---
---
November 29 2016 Big Picture 1962 updates (then on Dec 2 a number of 1959 name corrections)


Thanks to Alan Nolan we have the following information

Definites
Part A
23A Paul Curran 26A Eddie McMahon 32D Basil Sexton
Part B
49D John O'Hagan
Part D
75D Phil Doyle 83D Robert Musker 85D Brian Olverson
Part E
54E Vincent Ruxton who sadly died 7 May 2013, 57E Allan Hobson 93D Alan Nolan

With these more help needed to the list of Possibles/Incomplete

Part A
3A Brian (???) Prescott? 28D Tony (???) Glynn
Part B
38D ??? Rooney?
Part D
80D ??? Ingram
Part E
65E Adrian Clarke? 94D Paul Clifford?


---

10 November 2016 -- the December Cantata.
---
3 October 2016

Canon Kevin Mullen RIP





Article about Archbishop Thomas Roberts SJ who ordained Father Kevin in 1953 that appeared in a Friends of SFX newsletter in 2011

---

30 September 2016

Brian Edward Mulroy OBE --May Brian Rest In peace.
Brian sadly passed away on Monday 26 September 2016.

Brian a former Head Teacher at St. Monica's Catholic Primary School, Sefton, Merseyside- was awarded an OBE in the 2001-02 New Years Honours List for services to Education in Sefton.
He left St Edward's in 1960.

Brian's funeral will be held at St. Bartholomew's Church, in St Helen's, L35 6NZ at 11:30 on Thursday 6th October.






---





13 September 2016 -- the October Cantata.

29 August 2016

Following on from previous notices this Syllabus is being distributed to churches in Liverpool and all are welcome to attend.
Philip Duffy was at St Edward's 1953-60

Dear Friend
We are very pleased to announce that Philip Duffy is bringing his group of singers and musicians to a number of venues on Merseyside. We attach the poster for this event. Philip is past Master of the Music at the Cathedral. His Liverpool Bach Collective aims to perform a Bach Cantata at a Merseyside church every few weeks within an Evening Prayer setting.








---

---

Marie Louise Wilson RIP

I only just found that our teacher from the 1950s and 1960s in Runnymede sadly died last month.
Notice was in the St Helens Star.


MARIE LOUISE WILSON
In hospital on 1st June, Marie aged 90 years, of Dentons Green.
Sadly missed by all her family and friends.
Requiem Mass will be celebrated in St. Thomas of Canterbury Church, Windleshaw, on Tuesday 14th June, at 11.30 a.m. followed by interment in St. Helens Cemetery.
Family flowers only please, donations if desired to the Alzheimer's Society.
This notice was published in the St Helens Star on 9 Jun 2016.

May She Rest In Peace.

---

1 June 2016

Following on from previous notices this notice is being distributed to churches in Liverpool and all are welcome to attend.
Philip Duffy was at St Edward's as a pupil from 1950-1962 - starting in 'prep' (1st yr) in Runnymede and became Head Boy in 6th form.

Dear Friend
We are very pleased to announce that Philip Duffy is bringing his group of singers and musicians to a number of venues on Merseyside. We attach the poster for this event. Philip is past Master of the Music at the Cathedral. His Liverpool Bach Collective aims to perform a Bach Cantata at a Merseyside church every few weeks within an Evening Prayer setting.

Click on painting image for details in .pdf



---

---

June 2016
Mike Dittman
I have received a request to see if anybody has information as to how we can contact Mike Dittman who was at the college in the 1950's leaving about 1957-58. His friend Franklin Wilson has asked if we can help, bit like Friends Reunited. Please email me if you can help on huntscross (at) gmail.com. or via LEAVE A MESSAGE tab above. Mike's class are shown on this link. I need a few missing names for this class group so help with those needed.

---

21 May 2016. This information from the Notices in the press has just been received.

CREWE - DAVID FRANCIS, APRIL 19, 2016. Suddenly aged 76 years.
Beloved husband of June and brother of Brian and brother-in-law to Margaret, Sandra and Dave.
Funeral service and cremation at Springwood Crematorium on Friday May 6th at 2.30pm.
No flowers by request but donations if desired in favour of either The Salvation Army or Carla Lane Animals In Need.

David was in the College from 1950 to 1955.
David spent much of his working life Education Administration in Merseyside.
More information may be found following this link from our main index page and clicking on Dave's name on a page set up by Joe Chamberlain.








David Crewe is on the front row at left end of this photo, class of 1950 first year.

---

David and June in 1961 then later in Florida and Dave "cowboy" is on the third photo.

---

18 April 2016
Advance Notice.
Please Click link below for news of this years Purple Event and Evening Dinner - the Dinner will be followed by a disco - 19:30 to 01:00.

There is to be a quieter area "We are also setting up a separate area this year after the Dinner for those who prefer to spend the evening in a quieter location away from the disco!"



More information to follow but bookings are already being taken.

---

8 April 2016
Just had message today from Phil Marron that his brother has died recently
MARRON - FRANCIS JOSEPH (FRANK), March 29, 2016. Aged 83 years. Sadly missed by his Family and Friends.
Funeral Service to take place at Christ the King, Bromborough, on Tuesday 19th April at 10.30am followed by cremation at Landican South Chapel at 11.30am.
No flowers please but donations in memory of Frank are welcome for the British Heart Foundation
Frank Marron was at the College 1943 to 1949 and appeared in the first Old Boys team about 1951


---

20 March 2016

Following on from previous notices this notice is being distributed to churches in Liverpool and all are welcome to attend.
Philip Duffy was at St Edward's 1953-60

Dear Friend
We are very pleased to announce that Philip Duffy is bringing his group of singers and musicians to a number of venues on Merseyside. We attach the poster for this event. Philip is past Master of the Music at the Cathedral. His Liverpool Bach Collective aims to perform a Bach Cantata at a Merseyside church every few weeks within an Evening Prayer setting.




---

---

25 February 2016
Thomas Pearson RIP 1 January 1940 - 12 February 2016
Tom was the first child born in Walton Hospital in 1940


---

---

18 February 2016
Thomas Pearson RIP
I have had a brief message that Thomas Pearson died on Friday 12th February.

Funeral will be Thursday 25th for the family with family flowers only.


---

13 February 2016
Thomas Pearson RIP
I have had a brief message that Thomas Pearson died on Friday 12th February.
I have not had any other information yet however may no more after Monday 15th February.


---

27 July 2015 Thomas "Brian " Butchard RIP





I have had message today from Ian the son of Thomas Butchard and belated press details.
Ian has only just discovered our web site.


BUTCHARD BRIAN (THOMAS) April 28th, 2011.
Suddenly at home, aged 71 years. Beloved husband of the late Jackie. Loving dad of Paul and Ian, much loved father-in-law of Tracey, special grandad of Paul, Liam, Tommy and Katy, much loved brother of Colette. Brian will be sadly missed by all his loving family and friends.
Funeral Mass at Holy Rosary Church on Wednesday, May 11th at 9.30 a.m., followed by Cremation at Thornton Crematorium.

---

25 July 2015 Miss Marie Wilson
While at the airport I met a friend of Miss Wilson who was a teacher in Runnymede in the late 1950's and 60's. In the last few weeks she has celebrated her 90th birthday. Congratulations Miss Wilson.






Miss Marie Wilson in white

---

23 July 2015 Brother Aidan Brennan Funeral Mass on 23 July 2015


---

20 July 2015 John Shelley RIP
I have had very brief information that John Shelley Died today in Fazackerly Hospital. John was at St Edwards circa 1948-54 and was in many rugby teams. He played for the St Edward's Old Boys in the late 1950's and early 1960's. This small photo taken from one of the Old Boys' team photos.

Thanks to Nick Nelson more detail now given.
Funeral Mass will be at Saint George's Church, Maghull L31 3DF at 11:30 followed by cremation at Thornton Crematorium L23 1TP followed by a reception.

---

6 July 2015

We have just heard that Brother Brennan died this afternoon.
More details to follow.



Brother Aidan Brennan R.I.P.
17 November 1921 - 6 July 2015
This photo taken March 2010 at the College



Thanks to Brother Chincotta we now have all the particulars.
The Funeral Mass will take place at 12 noon on the 23rd July. The church chosen is St Werburgh's which is near the tunnel entrance.
St Werburgh's Square, Birkenhead, Merseyside - CH41 2XZ
The burial will take place at Landican cemetery about 90 minutes later (approx).
Landican Cemetery & Crematorium, Arrowe Park Road, Birkenhead, Merseyside - CH49 5LW

---

24 May 2015

Alex Morrison R.I.P. 1936-2003 who died in Bath Hospital on 22nd November 2003, a former St Edwards College Teacher.
I have only recently received information about Alex who was a former teacher at our school and there are now appreciation and tribute pages set up via this link for pupils in the late 1960s who will have known him and wish to contribute.

---

25 April 2015

Laurence Doyle R.I.P.
November 17, 1932 - April 19, 2015
Died peacefully at the age of 82, surrounded by his family.
A Funeral Mass will be held at Saint Dominic Parish - 2415 Rebecca St., Oakville, ON L6L 2B1, on May 14th at 10:30 a.m.

Laurence attended St Edwards in 1940's and left in 1950. Had recently been living in Canada. Larry came to our Annual Dinner in 2009.


Larry pictured at the Dinner 2009

and click links below for 1949-50 rugby team and Obituary

| | |
| --- | --- |
| | |